What We Do
Elevate your hotel spaces
to new levels of luxury
and comfort
Discover how we can transform your hotel's interiors into
extraordinary experiences
What We Do
Experience a harmonious
blend of beauty and
functionality
From sourcing stylish furniture pieces to selecting durable fixtures, our team strikes the perfect balance between style, durability, and cost-effectiveness
What We Do
Simplify Your Hotel Design
Journey with Expert
Project Management
With VAL HOSPITALITY as your partner, we seamlessly oversee every aspect,
ensuring timely execution, adherence to budgets, and effective
coordination with suppliers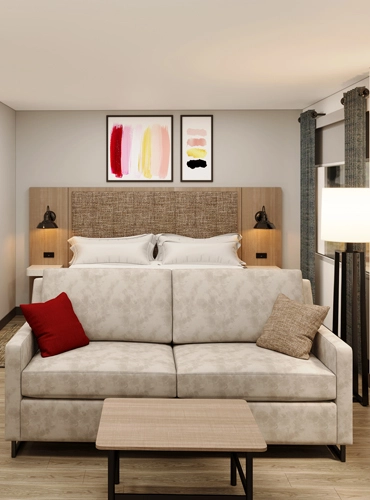 16
Years Of Working Experience
At VAL HOSPITALITY, we bring a fresh and innovative approach to the ever-evolving hospitality industry. With our passion for design, attention to detail, and commitment to delivering exceptional experiences, we specialize in providing custom solutions that cater to the unique needs of each hotel brand. Our team of expert designers combines creativity and expertise to create immersive and visually stunning environments. We understand that every hotel has its own story to tell, which is why we prioritize your hotel's uniqueness above everything else. Whether it's redefining interiors, enhancing amenities, or optimizing spaces, we work closely with you to turn your vision into reality.
Elevate hotel spaces to new levels of luxury and comfort with our expert interior design team, crafting immersive and visually stunning environments that leave a lasting impression on guests.
Transform hotel rooms and public areas into functional works of art, sourcing premium FF&E solutions that strike the perfect balance between style, durability, and cost-effectiveness, tailored to meet the unique needs of each hotel brand.
Rely on our seasoned project managers to seamlessly oversee every aspect of your hotel design and purchasing journey, ensuring timely execution, adherence to budgets, and effective coordination with suppliers, so you can focus on delivering exceptional guest experiences.
WORK PROCESS
Our Work Process
OUR PROJECTS
Our Latest Projects
Testimonials
What Our Client's Say
VAL Hospitality team truly exceeded our expectations with their exceptional interior design services. They took the time to understand our hotel's unique identity and worked closely with us to create visually stunning environments that left a lasting impression on our guests.
We were thrilled by the transformation of our hotel. Thank you VAL Hospitality for your premium FF&E solutions. Your carefully curated furniture pieces, fixtures, and equipment not only added a touch of elegance and style to our spaces but also stood up to the demands of daily use.
VAL Hospitality has completely transformed our hotel. They created a design that was both visually appealing and practical for daily operations. We had a great experience working with them. Highly recommend their services.
VAL Hospitality's premium FF&E solutions elevate our hotel's interior design without compromising on quality or aesthetics. The best thing about them is that they took time to understand our budget and provided cost-effective solutions. Their work impressed us with beauty, durability, and functionality.
FAQs
Frequently Asked Questions
VAL HOSPITALITY specializes in delivering the latest trends from the ever-evolving Hospitality industry, focusing on custom designs to help hotels imbue a personal touch that highlights their uniqueness.
Our dedicated team of experts collaborates closely with you to understand your preferences and requirements. By working together, we ensure that every aspect of your hotel reflects your brand identity and brings your vision to life.
We offer a range of services, including redefining interiors, enhancing amenities, and optimizing spaces. Our goal is to create a distinctive and memorable experience for your guests, elevating your establishment to new heights of excellence.
Our focus on custom designs allows us to tailor solutions that highlight what sets your hotel apart. We combine the latest industry trends with your unique brand identity to create a one-of-a-kind experience for your guests.
BRANDS
Brand Experience
We understand that every hotel has unique needs and requirements for furnishings and interior design solutions. Whether you're exploring bespoke hotel furnishings or trusted interior design solutions from top-notch brands, we are here to provide tailored solutions. As one of the most trustworthy FF&E suppliers in the country, we take pride in delivering exceptional quality and service to our clients.